Greg B. Fleishman
Greg is a long time veteran of the consumer packaged goods vertical having created and grown some of the world's largest and most successful brands during his 20-year career as a founder, operator, board director, and investor with 12 exits so far including Kashi (Kelloggs), Chamelon Cold Brew (Nestle), Suja (Coca-Cola/ Paine Schwartz), Nuun (Nestle), and Lily's Sweets (Hershey's) . Over his career, Greg has launched over 3,500+ products across 17 food, beverage, supplement, perishable, homecare, and bodycare categories into 12 countries – with a primary focus on the better-for-you CPG space. Greg is a distinguished member of Cambridge Companies SPG and serves as an Operating Partner, advising management on Wellness Industry Investments and providing critical support to our portfolio companies.
Co-Founder Foodstirs Junk-Free Bakerywith actress Sarah Michelle Gellar
Founder of Purely Righteous Brands, a top venture studio based in San Diego, CA
Co-Founder of Up to Good upcycled energy drinks
Co-Founder of Union Whole Earth Snacks
Ex-Kashi, Kellogg, Coca-Cola where he served in senior executive level roles
Operating Partner, Whipstitch Capital Investment Bank and active Angel & LP Investor
Named by Forbes as a Top CPG Consumer Catalyst
Board Director for Lily's Sweets (exited to Hershey's June 2021), Once Upon a Farm with Jennifer Garner, 4th & Heart Ghee, Nuun Hydration (exited to Nestle June 2021), & Demeter Biodynamic Farming USA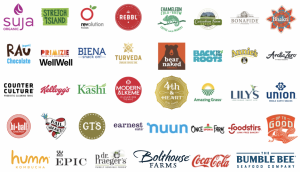 Greg Fleishman was recently named by Forbes as one of top CPG / Food & Beverage Influencers and Deal Makers in the U.S.
Click here to View on Forbes:
https://www.google.com/amp/www.forbes.com/sites/ryancaldbeck/2016/12/15/consumer-catalyst-awards-the-consumer-industrys-top-dealmakers-and-influencers-of-2016/?client=ms-android-verizon