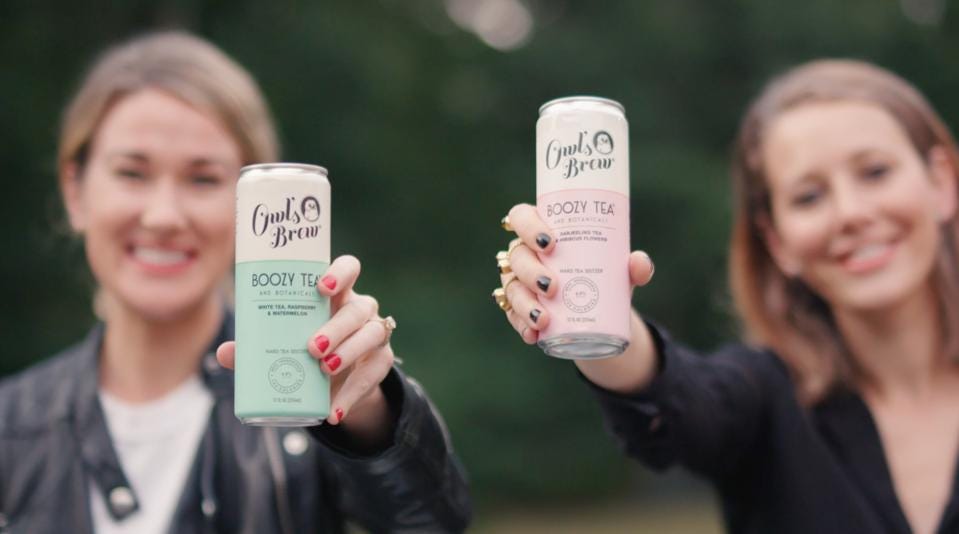 As Hard Tea Gains Speed, Owl's Brew Secures $9 Million In Funding
Owl's Brew, a producer of health-adjacent, tea-based spiked seltzers, has closed a $9 million Series A round. The funding follows a year of impressive growth from the RTD brand: after launching a line of tea-based hard seltzers in early 2020, the brand experienced 918% growth over the year and expanded to 18 markets.
Series A backers include Formidable Asset Management, Cambridge SPG, Connecticut Innovations, and Tidal River, alongside notable names like Sam Taylor-Johnson and Jeannie Mai.
The brand launched in 2015 after co-founders Jennie Ripps and Maria Littlefield, industry vets and tea nerds, had noticed a huge gap in the market when it came to consciously produced alcoholic drinks. So Owl's Brew was initially born as a line of inspired, tea-based mixers; just add your spirit of choice and shake, for low-effort, high-reward cocktails.
"We want to be what clean beauty is in the alcohol space," says Ripps, a tea sommelier who has worked with Momofuku, Sweetgreen, Soho House and The Edition hotels. "In that industry, there's such a major lack of transparency in packaged goods—particularly with alcohol, there are so many cryptic descriptions or varieties. What are you even drinking? Real raspberries aren't clear. Why is your raspberry seltzer?"
Now, their flagship products are spiked teas; sparkling, effervescent, and sneakily boozy slim cans flavored with real ingredients seemingly pulled from an apothecary or farmer's market; think white tea with raspberry and watermelon and English breakfast dosed with bright lemon and lime. All cans clock in at 4.8% and are sweetened with a dash of cane sugar.
Read more – https://www.forbes.com/sites/katedingwall/2021/09/24/as-hard-tea-gains-speed-owls-brew-secures-9-million-in-funding/?sh=237f9c0c6b52